Why is it important to visualize your tasks, to-do's and projects?
Humans are born to process visual information and a Kanban board is the number one productivity tool for visualizing tasks.
What is a Kanban Board?
A Kanban board is an agile task management tool to help visualize work or projects and maximize efficiency. It makes it easy to show your work to others and keep them in the loop.
It uses columns and Kanban cards (Visual tasks) so the flow of work can be prioritized, collaborated on and you can learn from completed tasks.
A Kanban board can be used by a single person or team for personal, or work related tasks and projects.
What are the benefits of a Kanban Board?
Better visibility and transparency of a work/project.
Improved efficiency – Reduction of wasted time, work and double-ups.
Increased output.
Prevention of over commitment.
Continues Improvement and delivery.
What types of Kanban Boards are there?
1. Physical Board
Think whiteboard divided into columns with sticky notes on it.
The progress and workflow works by moving these notes from column to column.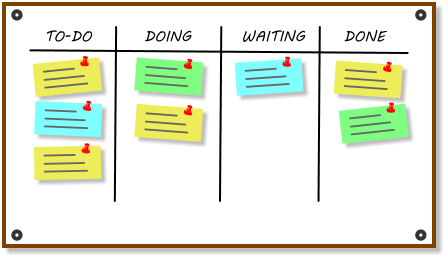 PROS
The advantage of a physical Kanban board is that it's easy to setup and to show to others.
Doesn't need an internet connection.
Highly customizable.
CONS
Not for remote working teams and cannot be taken with you if you need it somewhere else.
Can be easily destroyed or wrongly adjusted – either accidentally or intentionally.
Hard to expand.
2. Digital Board
Can be made with tools you use every day like Excel or OneNote. There is also a myriad of specialist Kanban software apps with Trello probably the most notable. If you're using OneNote you may want to have a look at our Kanban Board which is one of our most popular templates.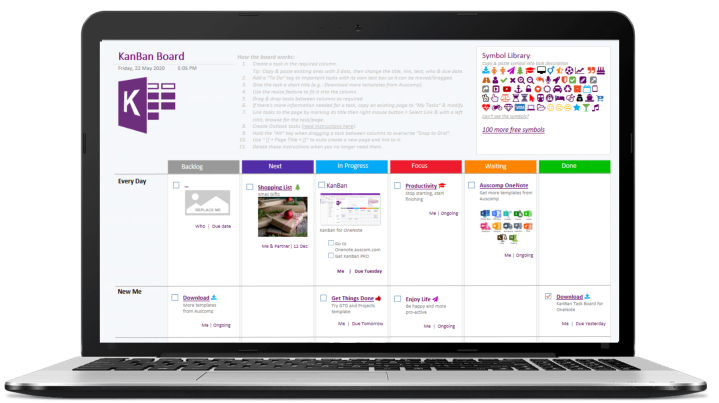 PROS
Access anytime and anywhere.
Can be saved in the cloud and synced to all your devices.
Can be shared with others and collaborated on.
Less chance of being destroyed either accidentally or intentionally when in the cloud.
Fully expandable and transportable.
CONS
Usually comes with a small learning curve.
Can become overloading if you use it as an ideas dump.
Needs some discipline for structure and keeping it up to date, relevant and useful.
What are the elements of a KanBan Board?
Columns
The different stages of a work project – with the simplest Kanban Board having 3 columns:  "To-Do, In Progress and Done"
Cards
Is the visual representation of a work item or task.
Work in Progress limits
Number of tasks that can be in a column at any one time. Needs to be set so it matches your or a team's work capacity. It allows you to concentrate on the important tasks and it reduces task switching, and from tasks getting stuck before completion.
 Commitment Point
The ideas column, also called to-do or backlog. Tasks which are ready to go through the work flow.
 Delivery Point
The completed or done column. Tasks that have been fully completed.
Now let's build a KanBan Board using OneNote
The most common and basic KanBan Board has 3 columns;
"To-Do" – This is the ideas (or what needs to be done) column
"Doing" – Tasks which you are working on and are in progress, and
"Done" – Tasks you have completed.
Create a Table with 3 Columns and 2 rows
Name the header of each column
Now insert a task in the first To-Do column. Repeat for each task you need to-do.
Copy & paste the tasks you need to the next column across.
**Note: dragging & dropping won't work here but see below for more options.**
After a task has been completed mark it completed and do the same "Copy & paste" into the "Done" column.
If you stay disciplined you will see that you can maximize your time and improve your efficiency.
** If you want to "Drag & Drop" tasks, and have a more colorful and inciteful Kanban Task Board, check out our KanBan Task Board Template for OneNote – it's one of our most popular templates!  (See image below)