Knowledge is power. So creating a knowledge-based Wiki has many benefits & advantages.
First let's look at the benefits of a Wiki
Knowledge management – A wiki is a one-stop-shop knowledge base that answers the most common and pressing questions a user may have. It's especially important for companies so employees have access to the knowledge they need to do their jobs well.
Easy search & navigation  – Unlike Word documents, which can become unwieldy in a hurry, wikis are easy to navigate with navigation buttons for section and page navigation and cross referenced/linked pages and sections. The power search searches all notebooks, sections and pages of a wiki. Besides text, you can also search for any tags that a user applied to selected notes.
Group collaboration – Wikis can be accessed, and edited, by multiple users, making them an effective tool for collaboration.
Real-time access & editing – Every user can access, create or edit content. And the changes are typically designed to be instantly displayed after an edit.
Ease of use – Wikis are easy to set up, and do not require advanced editing skills, or knowledge of computer programming, to create or edit content.
Customizable & flexible – Embedding documents, media and web links into a wiki page is simple.  The ease of customization, and combination of media, greatly increases the uses and applications of wikis for users.
Expandable – Creating and linking wiki pages is easy.  Users can expand wiki's as soon as more knowledge items become available. A OneNote wiki usually does not have any size restrictions.
Secure – OneNote is part of Microsoft 365. Read here how OneNote safeguards your data in the cloud.
Now building a Wiki in OneNote is easy, here's how.
First let's build a personal wiki.
A wiki starts with a home page and some content outline with bullet points (eg: Title at the top and some main points/topics).

Then create each topic page and link it using OneNote's linking syntax (A pair of left brackets followed by the name of page and a pair of right brackets – OneNote will now create a new page with the title and the link to it). Or use the context menu as shown below.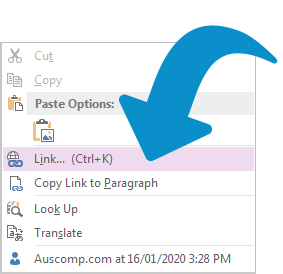 Each topic page can then be formatted freely like other OneNote pages and include to-do lists, calendars or planners, images, video or voice recordings, embedded files, KanBan Boards, links to other pages, sections, files or web addresses.
It's up to you which knowledge items you want to collect and create. We have created a wiki notebook/template to get you started.
It's vital for a company to have a Wiki, so lets have a look why a company should have a wiki and how to create one with OneNote.
Having a company wiki can turn out to be one of the best investments a company can make.  Here's why:
It brings all the company knowledge into a single place
It helps to preserve knowledge if an employee leaves and make onboarding of new employees much faster.
It makes information easy to find and improves collaboration, communication and time management.
Think of a company wiki as your internal knowledge base.
First you start with a homepage the same way as for a personal wiki. Only the structure and the knowledge you collect or create is all company focused.
The structure of the wiki depends on the type of company but some of the common information included in a wiki should be:
General polices and guidelines
Common workflows and basic work procedures (Think email setup etc…)
Organizational structure
Training and on-boarding materials
The home page should also have a welcome message and explanation of how to use the wiki.
The linking of pages and content is the same as explained before in the personal wiki. If your employees are familiar with OneNote you should be up and running in no time, especially if you use our Company Wiki for OneNote template which you can review here.