Hey reader,
In an era of rapid AI evolution, personal and professional development is not just about growth, but about job security and adaptability. Our proven templates are designed to guide you in this journey.
Here's what you can achieve:
Ignite Self-Awareness: Identify your strengths, weaknesses, and core values.

Boost Confidence: Hone your skills and step out of your comfort zone.

Build Stronger Relationships: Enhance your emotional intelligence.

Enhance Problem-Solving Skills: Tackle challenges head-on.

Increase Happiness: Strive to be the best version of yourself.

Fuel Motivation: Stay driven and reach new heights.

Cultivate Resilience: Bounce back from setbacks stronger.

Unlock Creativity: Foster innovation and out-of-the-box thinking.
Embark on this journey of personal and professional development with OneNote templates. Prepare now and stay ahead of AI!
Happy productivity!
Steve & The Team @ Auscomp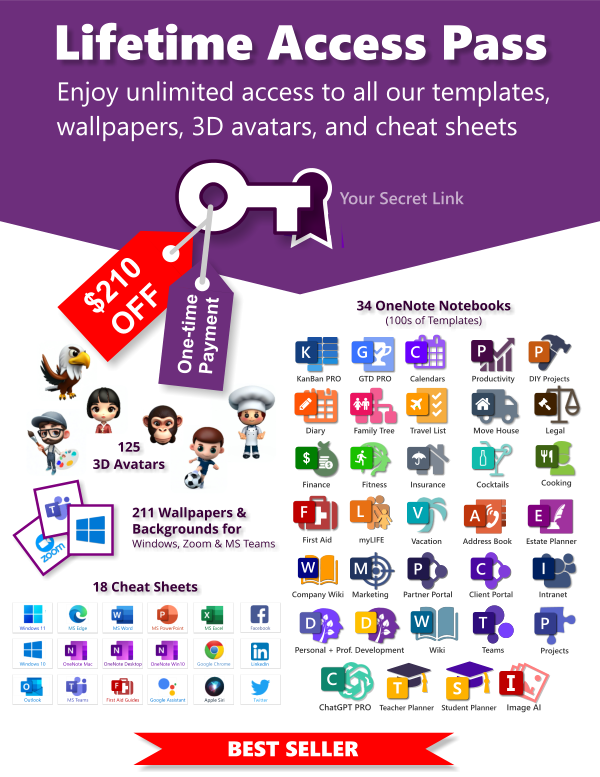 Get 10% off our Lifetime Access Pass. For only US$ 89, enjoy Unlimited Access to all our OneNote Templates, Wallpapers, 3D Avatars and Cheat sheets.


Act Now! Secure Your Exclusive Discount Today with this Secret Link!
Your unlimited resource treasure trove awaits, thanks to our extended offer!

💥
P.S. You might also like:
Making Microsoft 365 users
more productive with less effort!
(Microsoft 365 and OneNote are registered trademarks of Microsoft)
You are receiving this email because you either downloaded, purchased or registered one of our products or services.