Hey reader,
Picture this: all your priorities, perfectly organized and visually represented on a single, easy-to-use board. Intriguing, right?
While we do have a soft spot for traditional methods, we're also passionate about harnessing the power of modern technology to boost productivity. That's why we've crafted the most dynamic and user-friendly task visualization tool available today. It's designed to empower you, helping you stay ahead in both your professional and personal life.
Our tool gives you the freedom to tailor your organization system to your unique style, all within the comfort and familiarity of OneNote.
Are you ready to redefine your productivity?
We're excited to be part of your journey towards peak productivity.
To Your Success,
Steve & The Team @ Auscomp
Wonderful News: Because It Was a Hit, We've Prolonged Our Free Gift Offer!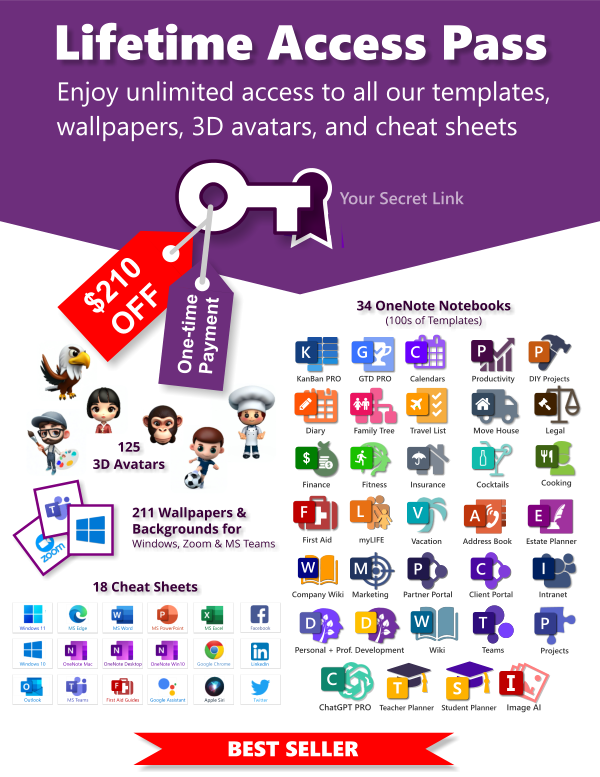 Get 10% off our Lifetime Access Pass. For only US$ 89, enjoy Unlimited Access to all our OneNote Templates, Wallpapers, 3D Avatars and Cheat sheets.


Act Now! Secure Your Exclusive Discount Today with this Secret Link!
Your unlimited resource treasure trove awaits, thanks to our extended offer!

💥




P.S. You might also like:
Making Microsoft 365 users
more productive with less effort!
(Microsoft 365 and OneNote are registered trademarks of Microsoft)
You are receiving this email because you either downloaded, purchased or registered one of our products or services.